Guest Post
by Giacomo Giammatteo
**Warning graphic image in this post**
One of my characters is Connie Gianelli, a tough-as-nails Brooklyn detective who was raised by a mob boss. She doesn't often show her gentle side, preferring to hide it under a "Brooklyn" veneer. I gave her an aquarium to help out, but I knew that wasn't enough, so I had her rescue a cat that a drug dealer shot through the chest with an arrow. The vet had to amputate the cat's leg, but she took it home to care for. Now she has a 3-legged cat as a companion instead of a man, and it suits her fine.
It also allows her to "talk" and reveal her feelings, something she would never do with a man. She wasn't brought up that way.
Writing the cat into the story helps not just from Connie's standpoint, but it also is a great device for slipping in humor and making smooth transitions between scenes. The best premier-pharmacy.com/product/avodart/ part about this is the cat is real. What I mean by that is the cat is one of the rescues on our animal sanctuary, so the personality I use for the cat belongs to him. It makes him as real as any of the characters. Readers have written to me and said that they felt as if the animals were part of the "cast."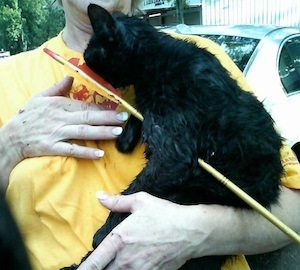 Above is a picture of Hotshot, the real 3-legged cat. That's my wife holding him on the day we found him with an arrow through his chest. We had to have his left leg removed because infection had set into the bone.
Tip Denton
Tip Denton is a Texas detective who Connie ends up with as a partner when she travels to Houston on a cold case. He pretends to be "Texas Tough," but in reality he's a softie, and it doesn't take Connie long to figure that out. Her first indication is when she meets his three dogs: Kassie, Flash, and Kelly.
Tip's dogs get more page time, and they provide a lot more humor, but they also serve up a few tears. I've had a couple of readers who said they cried at parts of the book dealing with the animals. I attribute this to the same reasons—these dogs are real. They are dogs we have rescued and they are part of our family, which means I know their personalities, how they react to different situations, and what makes them bark, growl, wag their tail, or smile.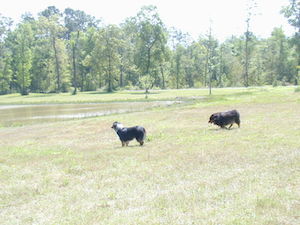 Above is a picture of the real Flash and Kelly by our pond on the sanctuary.
How to Evoke Emotion
Animals can be used to build character, and for humor or comic relief, but that's not taking advantage of the best ativan no prescription part of using animals in books. Nothing except babies are as powerful as animals when it comes to drawing an emotional reaction from readers.
What do I mean by that?
If you want to make readers hate a character, really despise them, have that character harm a child, or beat an animal. There is no faster way to build up or tear down a character than by using the rescue or mistreatment of an animal or child.
Use for Conflict
Animals are great to use for conflict. With few exceptions, characters in your books have to act "in character." In other words, they have to react to situations according to their personality. With animals you have some freedom. Imagine you have a dog who would never bite, but in a scene with the antagonist, the dog's owner or a small child is being attacked. What does the dog do? It bites the bad guy, of course.
The readers are happy (we hope) and the best part is even though it was out of character for the dog to bite, it fits because it's a dog and dogs are supposed to protect people. The other thing it does though, is lend a bit of unpredictability to the story. You never quite know what that animal will do.
Use For Gray Areas
Suppose you have an antagonist who is despicable, but you don't want them to be "all" bad. In a case like this, you can use a dog or a cat, or even an exotic animal to give that person a softer side. A side that readers can empathize with and care about, even if they hate him/her for what they've done.
Have an antagonist adopt a dog or cat about to be euthanized, or take in a stray. Or have them use money from ill-gotten enterprises to fund an animal shelter. Anything to make them come across as a good person, if only for a little while.
Bottom Line
Authors have been finding ways to use animals to develop characters and move plots along for hundreds of years, even thousands. Greek mythology was built on the use of animals to relate stories.
If you're an author, think about how you might put this to good use in your next story, and if you're a reader, see if you can guess what the author has in mind the next time you run across an animal in a story.
If you enjoyed this post, please share.
Giacomo Giammatteo is the author of gritty crime dramas about murder, mystery, and family. And he also writes non-fiction books including the No Mistakes Careers series.
He lives in Texas where he and his wife have an animal sanctuary with 45 loving "friends."